Ruined King ~ Round 4: Inside the Mist - Jacob
1920
18
61
20.11.2023
204299
777
72
06.08.2019
ES
Okay welp uhhhh this one actually killed me, but what else is new Story notes: - Yeah, so Jacob and Juniper don't really get along - Jacob and Arthur actually met as kids when Arthur decided to share food with Jacob. Though he forgot about him, the Mist helped him remember - Jacob's ghosts appear to him for the first time not angry nor resented, but rather sad seeing him in such a state. Emil's talk helps, making them more into memories than resentment. Slow process - YEAH, THE GAYS ARE CANON. TOOK THEM LONG ENOUGH - During the commotion at the village Jacob uses wind magic for the most part, as it takes less energy from him to use it - When Fawn approaches him after finding her with Juniper, he turns to check where the other fae went, unable to spot her - During their battle against the guards, Jacob feels a slash of pain within him, making his nose bleed. He's reaching his magic limitations The manip of Emil holding Maverick up in the air at 9:25 belongs to WolfSpirit79! Thanks to Astroquatic for helping out with the barrier shots! - Masks from 2009Jorose, AiraSora, Annelabyrinth, Astroquatic, Blueberry Crossovers, CasualLove, DreamingwithDragons, LoveandHeartbreak, Nana Wakagimi, Pastard, PeanutbutterjellyX x, QuitWhitStudio, SelenetheWerewolf, SpaceMeta, StarryEyed0590, Unstable Obsessions, WolfSpirit79, xDivinememoriesx and myself! (If I forgot your name please let me know)
Кадры из видео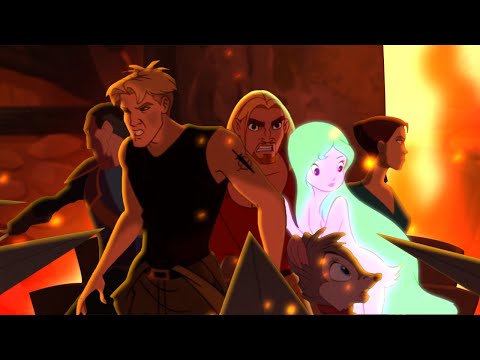 Комментарии пользователей:
@CaptainSelenewerewol
2023-11-25 16:08:12
So beautiful! All of your manips and your lighting is so beautiful. The music was so on point with what was happening. I can feel the burden Jacob has put on himself for thinking he killed the entire village. So happy he stood up against Fawn's mom, also the fact that Fawn made Jacob look like Sparrow, was a nice touch that perhaps her subconscious was remembering him.
@elianetorralba726
2023-11-24 00:13:26
I came across this video by accident. Nice work! I was wondering, from which movie/show the character you used for kid Jacob comes from? He looks familiar but I completely forgot
@somethingcreative32
2023-11-22 15:54:53
Wait imagine if RAYMAN was in this
And tavros and aradia and karkat and gamzee you know the whole gang
@somethingcreative32
2023-11-22 15:49:20
Is this inspired by AOT and captain laserhawk?
@VvHqPsT
2023-11-21 08:32:19
i need the next episode pronto
@Kairii-Kylie
2023-11-20 22:46:17
It's late (10:40pm) and I should be asleep as my alarm for work is in less than 8 hours 6pm) but I'm really engrossed in this. I really liked he phrase "I'll go where the wind takes me. And when it blows you're way we'll meet again". I had happy tears in my eyes for that kiss. Never seen anyone pair those e two before but I love it!. i had Sad tears run down my face. Anger at the discrimination everyone had to face. This is amazing. You should be very proud of yourself. 😊❤. Now please excuse me whilst I wipe away the tears and blow my nose 😅
@xizzy_light
2023-11-20 22:43:32
So epiccc, ilove thisss
@Amanda-hg9th
2023-11-20 20:27:46
Isainder music XJnerwHZOkw&t=0m50s 0:50
@temirlanzhunusbekov282
2023-11-20 15:21:11
XJnerwHZOkw&t=0m00s 0:00 - XJnerwHZOkw&t=5m45s 5:45 Name of this music ?
@2009JoRose
2023-11-20 09:53:46
yesssssssss they are in love!!!!! gorgeous editing as always
@acmblaiker2978
2023-11-20 09:49:11
One Word! Heartache!

Like I wrote in discord. Have no words now! My heartstrings litterly pulled with happyness, sadness(because of the shit they have to go through!

This is to much!! I feel so much in my heart. Gosh.

Also 20 Minutes?? With this beautiful storytelling and pacing!

To much. I need an ambulance.
Why?! Because you make me feel so much!

I love Jacob with all my heart. He is such a wonderful brother.

Juniper is belongs to horseshit. An Experiment! You freaking! I wanna kick her! Jacob is not a freaking Experiment. She makes my blood boil.


Also YES!! YeS to the kiss scenes!!!❤❤❤ Yes!!!! And you did them with such a passion!! Nope, not relating to Arthur pushing loved ones away..Nope!!

Not relating to Fawn and her feelings for her brother nope!!

Not feeling for Jaboc no no of course not!
.

Also! What a backstory! All need therapy !

youtube.com/results?search_query=%23allneedtherapy #Allneedtherapy !!

There are so many other things I want to say but I have no words!

Now if you excuse me. I need to recover cause damn Nerea your writing is so beautiful! Your editing! Everything!!❤❤